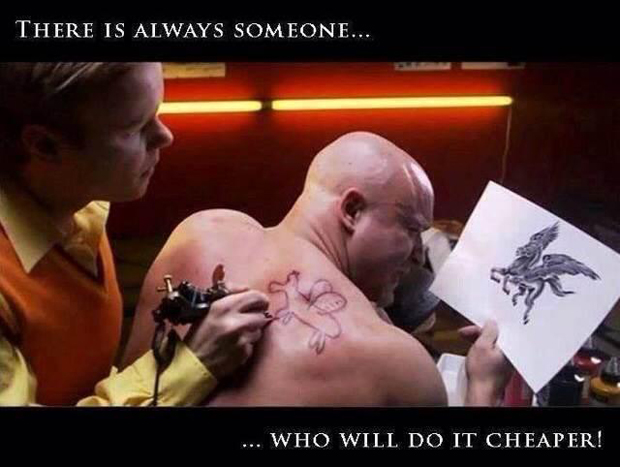 The majority of companies will shop around in order to get the best deal on SEO services which makes good business sense. However, companies need to be aware that the cheapest SEO company will probably not be the best in terms of delivering results and helping your website to rank; in fact, using a Cheap SEO Company will generally have a negative effect which may be very difficult to recover from especially as some things can be permanent.
As with all goods and services in life, you only get what you pay for and SEO is no exception. Cheap SEO relies on cheap methods of link building and little actual substance; the methods used are usually black hat. Using black hat techniques can have quick positive results which look great to your business in the short term, however, this is not viable as a long-term solution. This is because Google is looking to eradicate cheap black hat methods of SEO and their latest Penguin and Panda algorithm updates have gone a long way to achieving this.
Bulk buying cheap irrelevant links is a common cheap SEO tactic which can have devastating consequences for your website. The latest Google algorithm updates have refocused the ranking system to consider content and relevance more important than the overall number of links – the aim of this is to improve the quality of ranking websites and therefore make Google a better search engine for its users. As a result, websites using black hat methods in order to rank are regularly being penalised and even delisted from the Google SERP's altogether.
It is more beneficial therefore to choose an SEO company based on their merits, past successes and current portfolio of results than price. We at Chameleon Web Services have a reputation for outstanding results in Google SERP's and a fair pricing structure. All of our SEO projects are bespoke and are therefore the prices based on your requirements; we also try where possible to meet your budget regardless of how high or low it may be. Contact us today for a free personal consultation with one of our experts.
---
You have found this page as a result of Search Engine Optimisation Services carried out internally. If you are a Birmingham based company and want to get your company on page one of Google search results then you need the Best Birmingham SEO Company. Chameleon Web Services has been providing SEO since 2006 and dominates the UK SEO industry.
https://www.chameleonwebservices.co.uk/wp-content/uploads/2019/01/web-design-and-seo-company-logo-2019-WHITE-1030x108.png
0
0
chameleon
https://www.chameleonwebservices.co.uk/wp-content/uploads/2019/01/web-design-and-seo-company-logo-2019-WHITE-1030x108.png
chameleon
2013-11-05 16:54:47
2018-02-25 07:00:42
Cheap SEO