Is Your Website Mobile Friendly?
If you use the internet for your business then you will have noticed the trend shifting towards users visiting your websites using mobile devices in 2015 more than ever before.
We have clients with over 30,000 monthly visitors and the figures are clear that mobiles and tablets are used in a large percentage of this traffic compared to desktop users.
This means that if your website is not mobile friendly then users are not going to be getting the best experience and the worst case is the website simply doesn't work.
A non mobile friendly website will result in less conversions in 2015 and if you are using Google AdWords then you are likely to be paying for unhappy visitors and this is not a wise advertising  investment at all if you look at the facts and figures in your Google AdWords campaign data.
But now to really throw a spanner in the works, Google are changing the goal posts and there is a deadline to become mobile friendly if your business uses Google search.
From April 21st 2015 Mobile Usability became a factor in Googles Search Algorithm
A websites mobile usability is already a small factor in Googles search algorithm but as of 21st April 2015 it now plays a larger part as Google move the search engine forward with search being more intelligent and able to select the browser type and then display the best results to the user depending on the browser.
This is a great move forward for users as they will only be getting a website that works if they are searching on mobiles and tablets.
Starting after April 21 2015 if your website is not mobile friendly you will have noticed a drop in traffic if your website had good ranking before. The reason will be that Googles algorithm will favour mobile friendly sites and drop the rankings of the non mobile friendly website for people searching on mobile devices.
Google have announced this algorithm change now and we recommend you read this:-
http://googlewebmastercentral.blogspot.co.uk/2015/02/finding-more-mobile-friendly-search.html
Over 60% Of All Google Searches Are Carried Out On A Mobile Device
You need to make sure your website is mobile-friendly by April 21 due to the fact that 60% of Google searches are carried out on mobile devices.
Research on the likes of www.comscore.com shows data pointing to the importance of being mobile friendly:-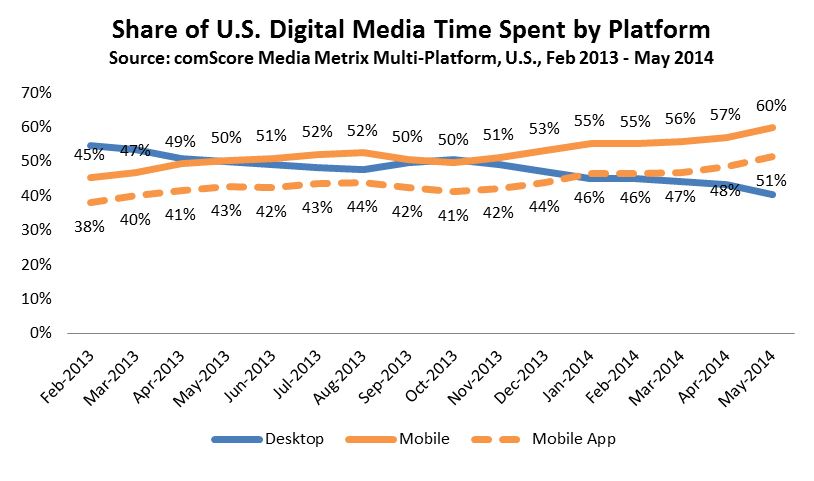 Data taken from: http://www.comscore.com/Insights/Blog/Major-Mobile-Milestones-in-May-Apps-Now-Drive-Half-of-All-Time-Spent-on-Digital#imageview/0/
Testing Your Website To Check If It Is Google Mobile Friendly
You can test your website now using the Mobile-Friendly Test.
Web Design Company To Convert Your Website To Be Mobile Friendly
If you need help get in touch with Chameleon on 0121 663 0456 or email us and let us know your domain name for a quick check to see what is required, it might be a simple process and we can make your website mobile friendly.
Google's Getting Started Useful Links
| Situation | Guidance |
| --- | --- |
| Find out if your website is mobile-friendly | Take Google's Mobile-Friendly Test |
| 3rd party software to make a website mobile-friendly | If you have a website that uses third-party software (or if you want to create a new site), see Customize your website software for mobile users |
| Make a site mobile-friendly and dive into the technical details | Review the Getting Started section on Web Fundamentals, our resource for web developers read our Mobile SEO guide for an overview of the implementation process |
| Work with someone to make my site mobile-friendly | Review Google's advice for working with a developer |
Is Your Website Not Mobile Friendly – ACT NOW