Digital Marketing Display Advertising
We have seen a huge growth in the Digital Marketing sector, by using Display Advertising companies put brands in our viewing space when we are out and about. This type of outdoor media is an incredibly flexible way to capture a large audience. One of the leading providers of Digital Advertising is Elonex and Chameleon are proud to be a partner. We work closely with this innovative company which delivers media to an audience of over 2 billion people with display advertising opportunities covering digital roadside, sporting events, shopping centres, auction houses, etc.
Elonex are proud to have built Europe's largest sky scraper digital advertising screen and they also have some of the best positioned advertising platforms across the UK and Europe. Due to our increased advertising spend we are able to provide discounted rates for some of the most expensive peak times available.
Europe's largest digital advertising screen located at Manchester Piccadilly Station has a constant audience.
Next to one of the busiest routes into Coventry, the Ricoh arena has frequent events and offers a high impact presence for your brand.
This location is busy 24 hours a day.
Display Advertising in the UK
We can provide our clients with UK Display Advertising in some of the most populated areas of the country. We have access to digital roadside advertising in the busiest areas of the UK include Motorways and busy dual carriageways. We can promote your brand at Manchester Piccadilly, M5 Junction 1, Birmingham Spaghetti Junction, Birmingham M6 J9 West, Ricoh Coventry, A45  and prestigious sporting events like The British Basketball League.
The British Basketball League Advertising Example
Sporting events provide one of the leading ways to deliver high impact advertising and we can provide sports LED advertising in some of the best UK venues such as London Irish, Gloucester Rugby Club, Northampton Saints, Worcester Cricket Club, Worcester Warriors, etc.
M5 Junction 1 Display Advertising Board Example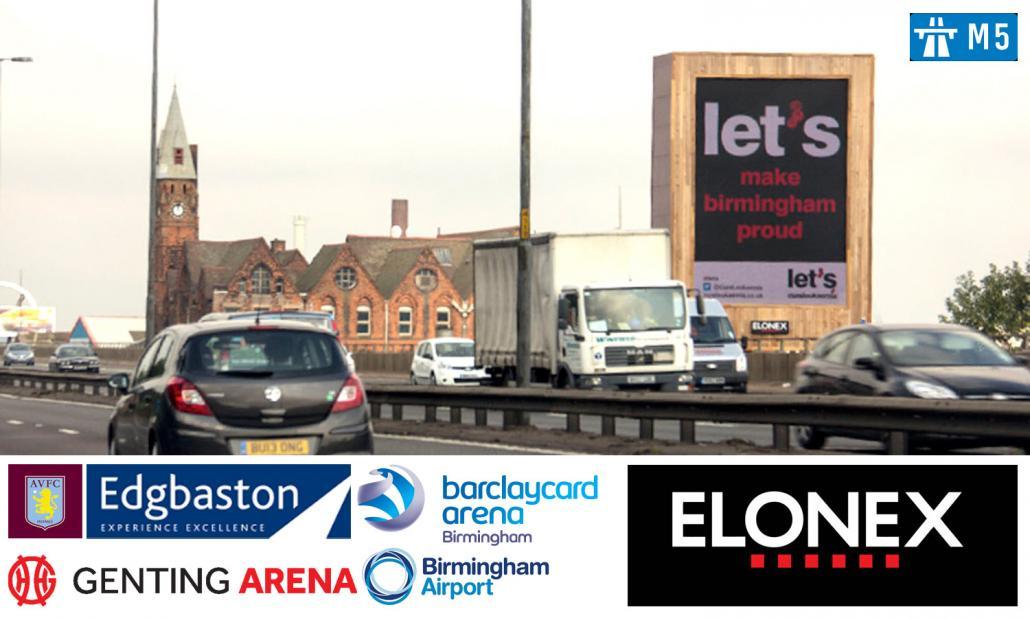 Near to Aston Villa FC, Barclaycard Arena, Birmingham Airport, Birmingham City Football Club, Edgbaston Cricket Club, Genting Arena, The Bull Ring Shopping Centre, Merry Hill Shopping Centre, West Bromwich Albion Football Club, etc. This section of the M5 is one of the main routes to the M6, M42, M54 & M40.
The M5 Junction 1 is one of the busiest parts of the UK motorway network connecting commuters heading onto the M6 and M42. This is a key location for Elonex Outdoor Media products.
M5 J1 North Bound Display Advertising View
M5 J1 South Bound Display Advertising View
We captured the TimeLapse of one of the big screens being installed at Northampton Saints Rugby Stadium.