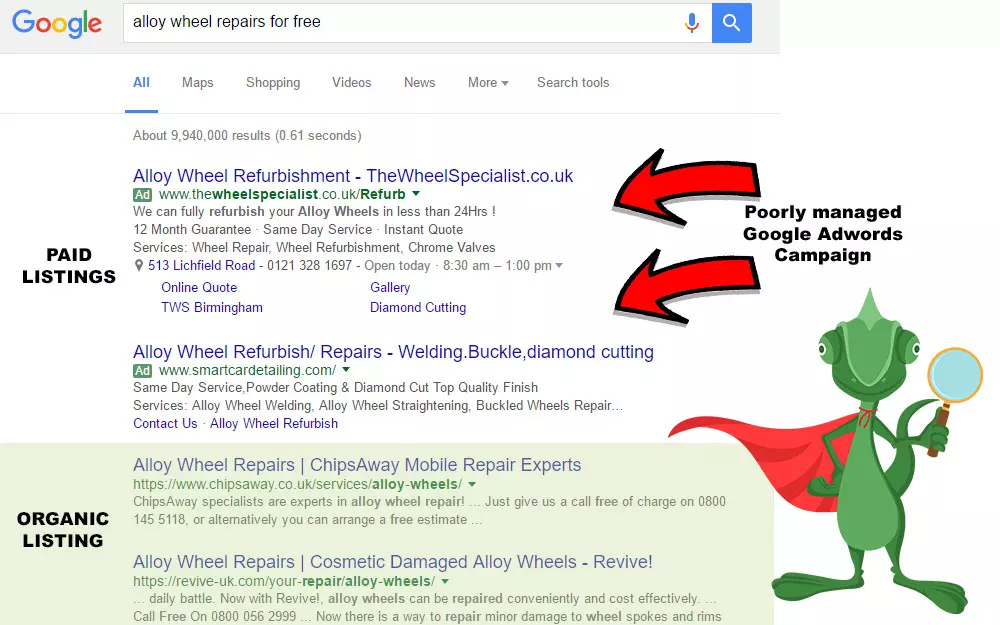 PPC is an abbreviation for pay per click, also known as Google AdWords, which is a way of advertising your business on search engines. As it states in the name, you literally pay per click you have to your website, from the advertisements. Essentially, it is a method to generate traffic to your site, rather than earning them organically.
However, we have also found that clients who use both PPC and SEO seem to have the most effective marketing campaigns as those who don't convert straight away through pay per click; then find the company later by organic search.
What is Google AdWords?
Google AdWords enables businesses to create ads within their platform and publish these ads to appear in Google's search engine results.
In simple terms, it operates by bidding on keywords relevant for your business and you pay for each click your business receives from the advertisements. The cost of every bid can differentiate depending on the keyword you are bidding on. As well, the ad may or may not be shown for every search. This is due to the fact that whether the ad is shown is based on a range of factors. These factors include the quality and relevance of keywords and ad campaigns, also the size of the keyword bids.
Additionally, the companies whose ads appear at the top of the page are based on their ad rank. This is a measure which is calculated by two contributing factors including the cost per click and quality score. Once the successful companies have been chosen, the system then allows them to display adverts to potential customers at a cost.
Successful Google Ad Campaigns
Conducting your digital marketing through Google ads will be valuable for you as a business due to the fact that Google gets large amounts of traffic and therefore will deliver the impressions and clicks to your ads.
The following factors are what we have found to be the contributing factors to a successful PPC campaign:
Keyword relevance
Landing page quality
Quality score
Creativity
There are many things to consider when setting up and maintaining a Google ad campaign. If you need any support with this, Chameleon is happy to help. We are a leading paid search agency with over 15 years' experience, with results driven by our analysis and optimisations, reducing your monthly spend with Google and increasing the amount of conversions.
Contact us today to speak with one of our Google Adwords specialists.
https://www.chameleonwebservices.co.uk/wp-content/uploads/2019/01/web-design-and-seo-company-logo-2019-WHITE-1030x108.png
0
0
chameleon
https://www.chameleonwebservices.co.uk/wp-content/uploads/2019/01/web-design-and-seo-company-logo-2019-WHITE-1030x108.png
chameleon
2019-11-25 14:35:57
2019-11-25 14:38:11
What is PPC?