Search Engine Optimisation is something that has to be the most important task to complete and yet many websites simply fail due to lack of understanding SEO. Organic traffic is free and the most important factor for success.
What is the point of having the best looking website and the best priced products online if only you and you family and friends can find the site.
It is difficult to be on the first page of Google and this is the reason why SEO is important. Google ranking can change your website completely. If you have a chosen keyword that was related to your site and things were put in place to identify this to Google and Google liked the website then you could be opening your website to thousands of people viewing the site a day.
We have clients from many different sectors and it is amazing the volume of traffic that we see relating to a product type. For example the Sweet Shop Sweet Heaven that sells retro sweets wants to be top of Google for keyword terms such as Old School Sweets, Traditional Sweets and so on. When we investigated the traffic related to these keywords we were amazed at how many people search sweets and sweet related products a day.
We carried out SEO on the Sweet Shop and the site went top of Google for everything after 6 weeks.
But and this is the big but.  The owner of Sweet Heaven who has the best online sweetshop in the UK in our view decided to purchase a backlink campaign following information provided by a reputable SEO company. they explained that backlinks are important and you need thousands and thousands of backlinks inorder to be anywhere in Google. they explained that the site is top of many sections now but Google will drop the site very shortly due to the lack of backlinks.
The backlinks were purchased and now the site changed in Googles eyes to a site with natural growth and SEO carried out to a site that has had the Google robot crawling it one day and calculating 80 approximate backlinks and ranking the site accordingly and then coming back and finding the site has 600 backlinks.
What did Google do????? Penalise the site for unatural growth.
What is natural growth of a website?
Imagine a website with information that is useful and someone puts a link to the site because they found the information very useful and wish to recommend it. Well this is a backlink and the more backlinks the more votes that are being cast in Googles eyes. Now 1 or 2 new backlinks a day or a week is natural growth if the site content is good. However it is clear that from 0 backlinks to 3000 backlinks following a backlink campaign over a week or so is not natural.
If Google penalise a site it can be months before this penalty is dropped. So these backlinks that are keyword related and in theory will help you be top of Google and has cost you probably £1000 or more will kill your site.
In Chameleons own calculations we have found that 80% of the Google ranking process is related to SEO and 20% backinks and other factors.
One thing to point out as advice to all:-
If a company calls you and states they can get you top of Google Organically for a chosen keyword in 24 hours then put down the phone.
If a company calls you and states they can guarantee top position in Google for any chosen keyword, again put down the phone.
To make you understand why:-
If you make a change today on your website, Google may not pick up the change and use it for a week or more!
If you make lots of changes Google will drop the site and bring it into a higher position or the same and then drop again. This is known as the "Google Dance".
If you make the perfect change and Google drops the site in terms of Ranking it may come back in a day or so in a much higher position. The whole process takes time.
So basically Google is not something you click a button and be top, unless you use Google Adwords.
SEO Basic principles
Ensure you have no errors on the site, broken links, etc.
Ensure your site does not have duplicate content. Do not copy from another site.
Fix any canonicalization problems with the site.
If your home page has more than one possible URL google can pick up information for potentially 4 different sites. This is known as Canonicalization:-

Having multiple URLs for the same web content will give search engine robots multiple information that could be seen as duplicate content. You need to fix this to put all the information in one place. Goto your site and check it by adding and removing the URLs. If you want to see how it should work look at the Chameleon Web Design Website.
Website Title should be relevant to the site content and not too many words.
Website Description should be related to the title and the site content and not too many words.
Website Keywords should be related to the title, description and the site content and not too many words.
Do not keyword spam, this means do not put the keywords everywhere as this will have a negative effect.
Google Analytics Report below shows Chameleon SEO Success.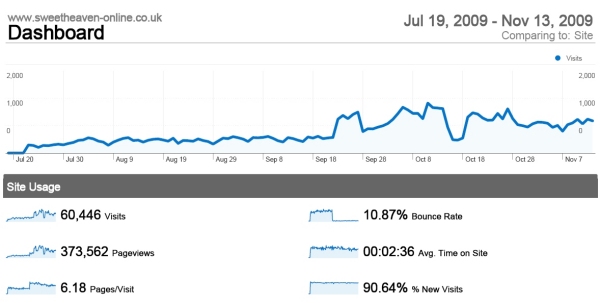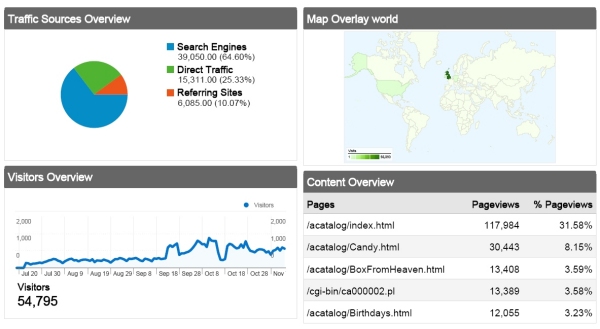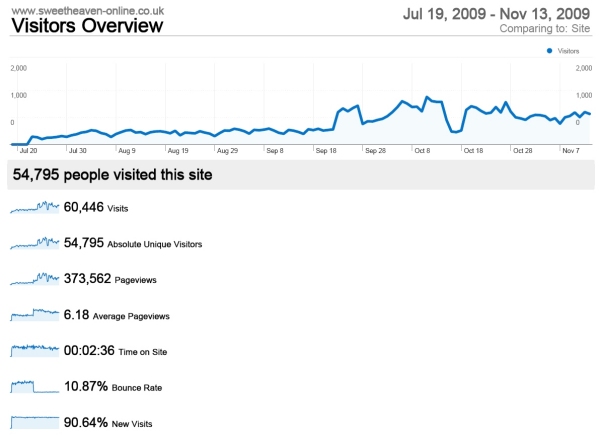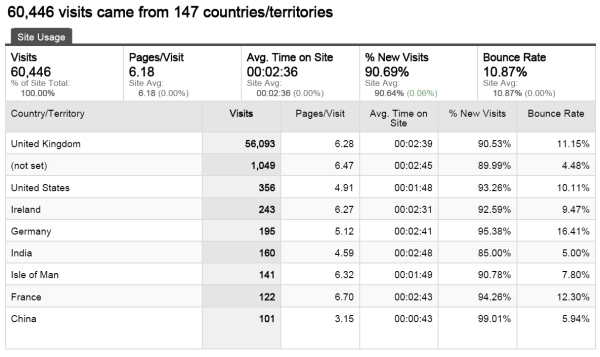 To Be Continued…