How not to conduct a marketing business is to use technical terms that people do not understand and make people have negative feelings towards the work of a competitor when you make the contact from a competitors customer list.
Basically a very low tactic that is used by marketing companies is to look at websites of competitors and ring the clients in an attempt to expand their own business pointing out mistakes or what can be seen as wrong doing or an issue when there is always a answer to everything.
In every business there are things that one company will do differently when compared to another and we could pick faults and find things that can be done better as there is always a better way of doing something and SEO is a black art.
If you look at any business, what you do now compared to what you did a few years ago is different and when we look at the website we made in 2009 they were not very good, but at the time they were top class, things move on.
A word of warning to our clients is that a local Birmingham SEO competitor called Essential Marketer is carrying out this marketing technique by calling Chameleon clients in an attempt to make them leave Chameleon and move to them.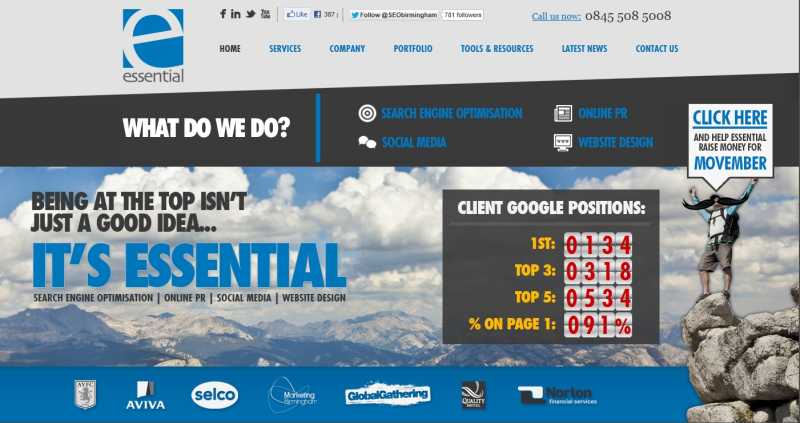 How did we become aware of this?
Due to Chameleon delivering a great service to our clients we have had a number of phone calls from clients explaining about the phone call that they have received and informing us of these negative actions. Also a company called Name Frames who we worked with years ago and have not done any work with for over 2 years was contacted and he gave us more information.
Name Frames was a client that came to us with a huge problem that was created by another Web Design company and we worked to fix the problem and helped the client no end to achieve his goals online.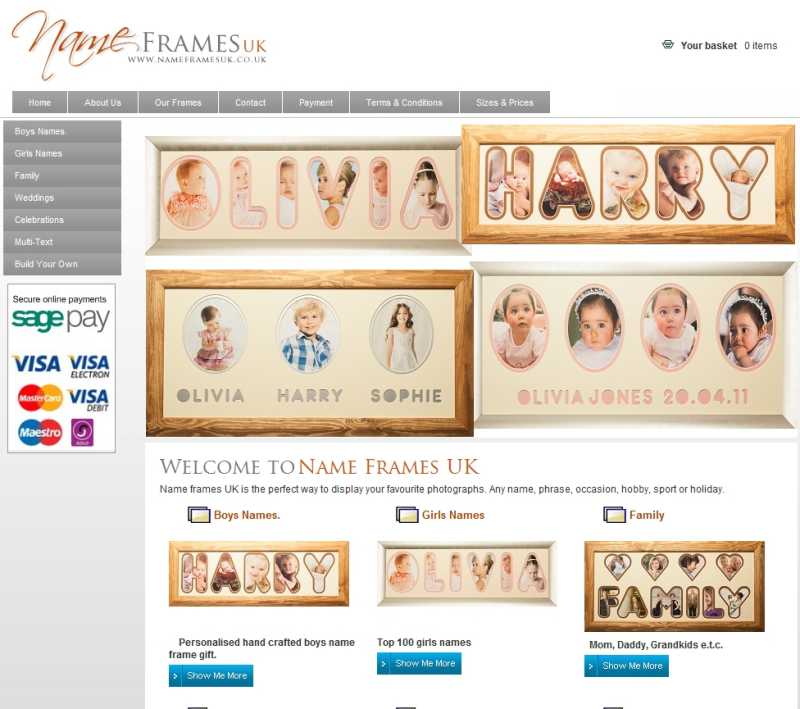 When we stopped working with Name Frames the website was top of Google for all the keywords that they wanted and the website was doing very well. The budget for this SEO campaign was very small and we achieved success and a huge amount of sales even with the small budget.
The company Essential Marketer called the client from Name Frames explaining about linking and how building links from various places is looked at as being bad and how the work we did years ago is wrong, etc.
SEO is constantly changing and the latest SEO work being carried out to achieve top results is different to what was carried out 2 years ago. So any SEO company using this tactic to win work should be looking at what they were doing themselves a few years ago.

If you look at the graph above this compares what Chameleon and Essential Marketer have been doing in terms of link building since 2007. Chameleon have a larger link profile and a more natural link curve but this shows that they have been building links just like us.
How does this compare to other SEO companies:-

You can see from the above information that this is normal practive in the SEO world.
And if you look at the recent times SEO companies are still link building:-

Looking at the recent backlinking comparing Chameleon and Essential Marketer you can see again that there are large amount of links being built by both companies.

One of the sales guy called Tez Wu from Essential Marketer said to our clients on the phone that Chameleon is link building at rates not possible and this is bad and that they never do this, etc.

This graph above shows the links built daily and 18th September they have 1200 links in one day, is this humanely possible?
Essential Marketer starting carrying out SEO on Name Frames in November 2012:-

No one understands what has gone one here! but basically on the 15th November someone created a large amount of links and when the Name Frames director asked questions Chameleon got the blame yet Chameleon only found about this today 16th November 2012. Any client of Chameleon knows that we always tell the truth and work very hard to achieve success for our clients.
The director of Chameleon Web Services has contacted Essential Marketer Birmingham and asked the question why in a professional and polite manner. The result was that Chameleon has some how by mistake, ended up on there radar and they apologise as they felt we have been carrying out a good job.
Now when looking in Google at the search term "Birmingham SEO Company" which is one of the largest search terms in the Birmingham Area for an SEO Company, Chameleon have been top for 3 years running:-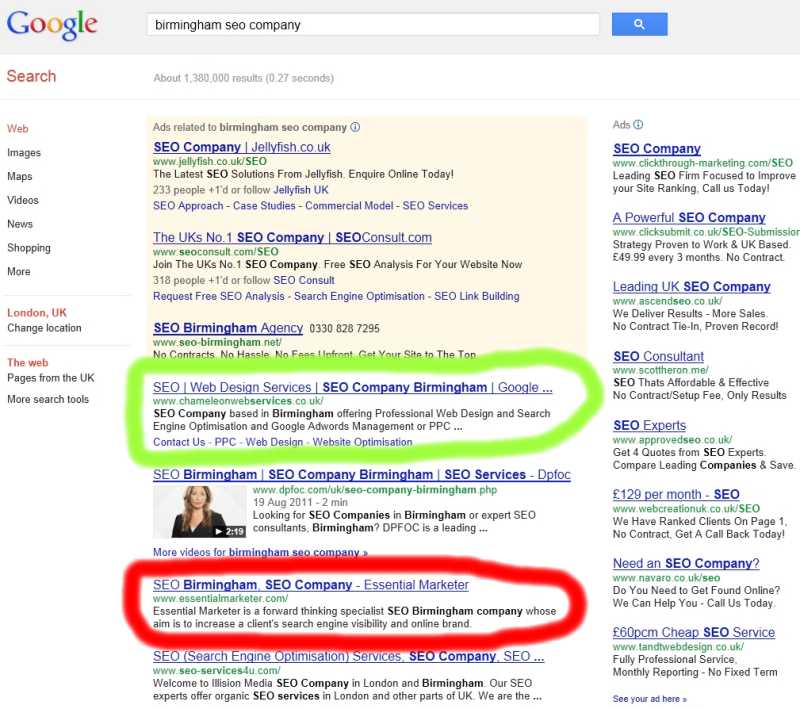 The company Essential Marketer is telling our clients that there linking strategy works better than ours.
To see how good a linking strategy is go to the OpenSite Explorer website and take a look for yourself.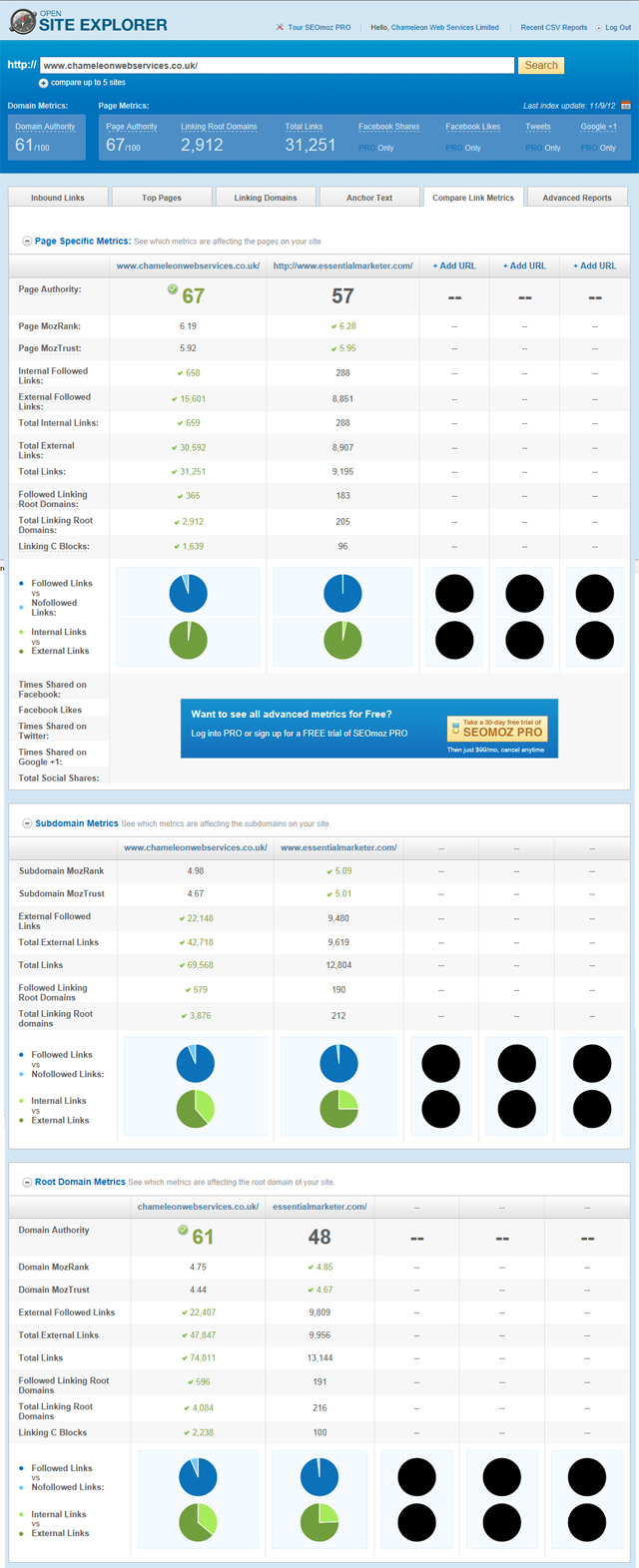 For anyone reading this take note, Google is changing and a website onpage SEO is vital to be correct.
Search engines crawl a website and take into account many factors about the page content and how it is laid out.
To ensure websites meet standards there is the W3C Validation.
Essential Marketer = 12 Errors, 5 warning(s)
Chameleon Web Services = This document was successfully checked as HTML5!
The W3C CSS Validator:-
Essential Marketer = Sorry! We found the following errors (3)
Chameleon Web Services = Congratulations! No Error Found.
Another example of what you should do if you have a high level of understanding in this industry is to ensure you create error pages.
Go to there website and type in anything after the website URL to cause an error, for example unethical-seo:-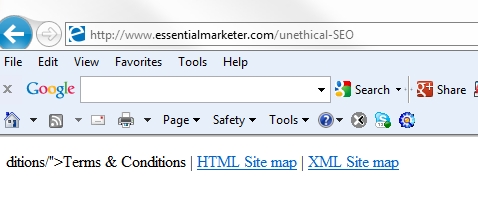 Now try the same on Chameleon and see what you get:-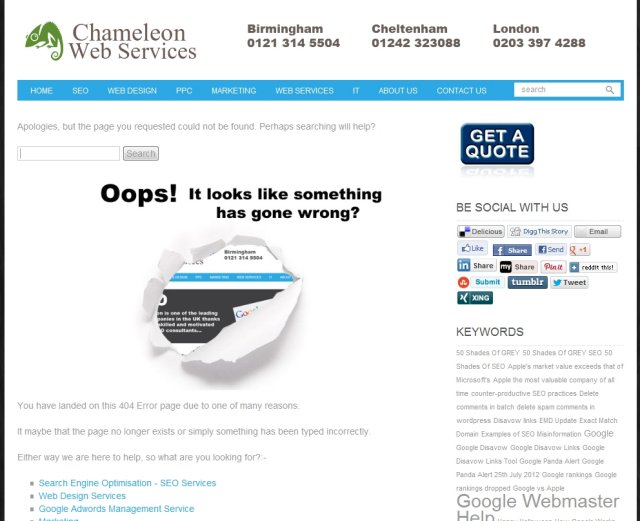 These errors are known as 404 errors and should be handled carefully.
Online marketing is hard work and there is a Marketing Grader called HubSpot.
Essential Marketer Hubspot Grading
Chameleon Web Services Hubspot Grader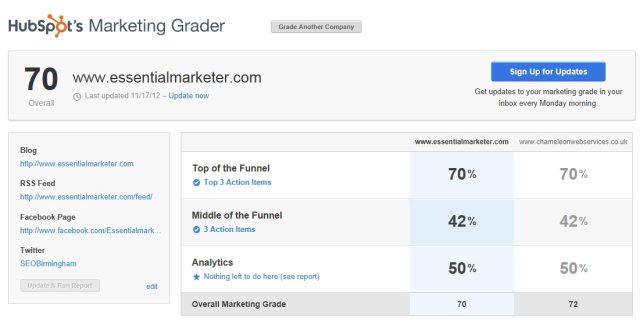 You can see here that Chameleon are just winning on a marketing level.
So to conclude this post Chameleon do not telephone our competitors due to the fact we have enough business coming to us from positive feedback from customers and Google ranking positions of our website and clients.
Any company that is willing to go as low as this is a company that is odviously desperate for work…
To understand what Google think about all this go to: http://support.google.com/webmasters/bin/answer.py?hl=en&answer=35291
Taken from this article is a warning that can be converted from email to the phone.
Google state "Be wary of SEO firms and web consultants or agencies that contact you out of the blue."
They even contact Google…